Absolutely! You can request a virtual proof either before or after placing your order. It's mandatory for every order to have an approved virtual proof before we proceed with payment or production. Don't hesitate to request changes until it's perfect. If you would like to request a proof prior to ordering, you can do so by clicking the link on the product page that says 'Art Proof Request'.
Why are virtual proofs essential?
We understand the apprehension of purchasing a product for the first time without seeing it. That's why we're 100% committed to the quality of our products and guarantee that they will function as intended with flawless imprinting. If there's any discrepancy, we'll either rectify the order or offer a full refund.
Virtual proofs play a pivotal role in ensuring customer satisfaction. These digital mock-ups provide a preview of the finished product, giving you an idea of how your imprint will appear on the actual item. Crafted using specialized art software, these proofs incorporate an image of the product alongside your design. Once generated, we email them to you in a PDF format for approval. Please note, we won't initiate the order or payment process until we receive your nod on the art proof.
VIRTUAL PROOF EXAMPLE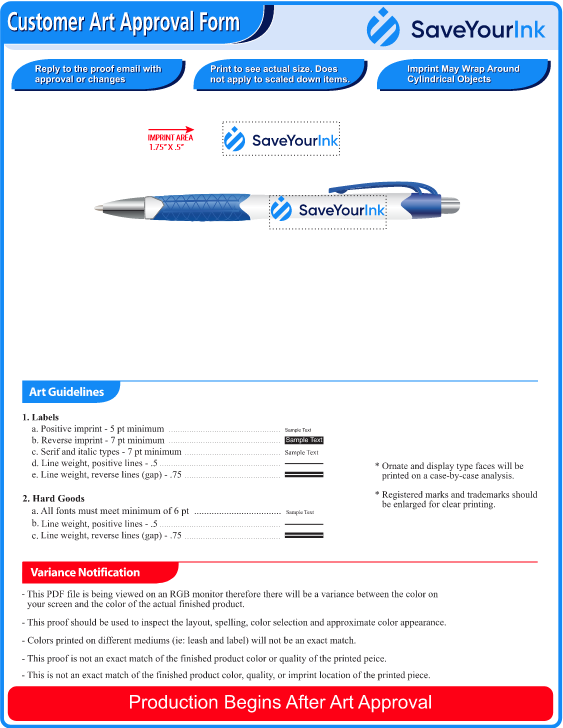 Need Assistance with Your Design?
Our skilled graphic art team is here to help perfect your design and ensure it truly stands out. We're committed to forging a long-term relationship with you, and that begins with ensuring you're thrilled with your artwork. No matter how many revisions it takes, we're not satisfied until you are.
Considering a Physical Sample?
While virtual proofs offer a digital glimpse of the end product:
Product Physical Sample: If you'd like a tangible feel of the product, we offer samples. Though these won't have your imprint, they give you a hands-on sense of the product's quality and functionality. Combined with a virtual proof, it's almost like having the real deal. See our sample policy here.

Spec Production Sample: For those who want to see their imprint on an actual product, we provide this option. Please contact us for pricing on this option via phone, chat or email. If you proceed with a full order, this charge will be applied to it. If not, it remains non-refundable. Typical production time for these samples is 3-5 working days. Please note that once a product or paper proof is approved, any errors are the responsibility of the customer. Your approval confirms the design's accuracy.
Our Commitment to You
We're not just here for a sale; we're here for a relationship. We aim to be your go-to for all promotional needs. Many of our products are well-recognized and might not require sampling. If you're familiar with a product or feel confident about your choice, you can proceed with your order. However, if a delivered product functions correctly with a high-quality print, but isn't what you expected, we'd appreciate understanding beforehand.
If you're pressed for time and can't order a sample, don't worry! Let our promotional experts guide you to make the best choice for your needs.